CONTOUR CLOUD PILLOW
$29.99
-
The Only Pillow with 3 Layers for Comfort & Support
Description
CONTOUR CLOUD PILLOW| Michigan USA
THE CONTOUR CLOUD PILLOW
The Contour Cloud Pillow is designed to help reduce neck aches and discomfort by correctly positioning the head, neck, and shoulders during sleep. This firm pillow offers a crescent cutout design to cradle your shoulder, 3 unique layers for comfort and support, and an exclusive contoured shape to support and align your spine for perfect sleeping posture. The top layer is ridged to provide air circulation to keep you cool during the night. It includes a soft velour cover to provide added comfort and protect your pillow.
FEATURES & BENEFITS
1. Crescent cutout design cradles the shoulder area instead of bumping into it
2. Famous contour shape supports and aligns the spine for a great night's sleep
3. The firm pillow includes 3-layers of support:
Topped with a comfortable layer of conforming, memory foam
The yellow wedge in the middle provides additional support for the neck area, ensuring proper sleep posture
The blue base keeps the pillow from bottoming underneath the weight of the head
4. Support lobes support neck and head – two heights
5. Top layer has ridges to provide increased air circulation to keep you cool and comfortable
WHAT'S INCLUDED
1) Contour Cloud Pillow
1) Velour Cover
The Contour Cloud® Pillow Designed to Reduce Neck Pain Our best selling CONTOUR CLOUD PILLOW, designed to help reduce neck aches and pains by correctly positioning your head, neck and shoulders during sleep. This firm pillow includes supportive foam necessary for positioning, and is topped with a comfortable layer of memory foam. Includes zippered, velour cover.
Introducing the new Cool Air Edition cervical support cloud pillow.
Sleep cool & dry on a cloud of air! It's a ventilated memory foam core with a mesh layer top and soft quilted cover.
Our most popular CONTOUR CLOUD PILLOW – combines two layers of support foam plus top layer of memory foam for ultimate comfort.
Firm Cervical Pillow – Perfect for side / back sleepers, or anyone with neck pain. The Contour Cloud® Pillow is a therapeutic bed pillow which correctly positions your head, neck and spine.  Designed to cradle and support the natural contours of your head, neck, shoulders and back.
this foam pillow's soft touch memory foam layer molds to fit your head and neck for unmatched softness and comfort.  This is a unique three layered bed pillow with multiple features not found in other pillows.
The top layer is a ribbed memory foam which allows air to circulate while quickly adjusting to your body temperature and molding to the unique shape of your head and neck. The exclusive lobed shape of the pillow and the crescent shaped neck cutout supports your head and neck without shoulder or back strain.
This pillow is ideal for back and side sleepers.  It actually encourages proper sleeping positions and helps keep you there.
The Contour Cloud® Pillow is built with three layers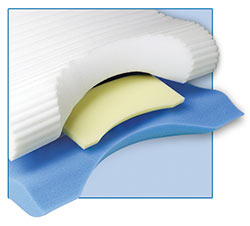 of comfort:
The "white" soft memory foam layer shapes to the curves of your head and n
eck providing soft cloud-like comfort.
The "yellow" firm center is designed to provide extra support to the neck and shoulders
The "blue" Support base is made with extra firm foam to prevent 'bottoming out' and keeping your head properly supported throughout the night!
Includes a soft velour cover.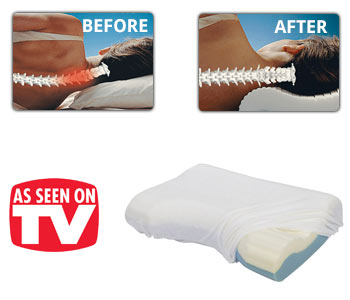 Ordinary pillows
Don't properly support your head and neck, forcing your neck into unnatural, potentially harmful positions.
Sleeping in an unsupported manner can cause the surrounding muscles in your neck and upper back to work harder which can result in a stiff, achy morning!
The Contour Cloud® Pillow helps support and align the neck and spine. Your head, neck, shoulders and back "sense".
the support and relax so you enjoy a deep.
restful night's sleep and awake feeling refreshed and rejuvenated. Your pillow comes with a custom fitted velour cover. It provides a soft sleep surface which compliments the pillow. Additional covers are available .
Specifications of cervical support cloud pillow
SKU:

13-100RCT

Availability:

in stock

Weight:

0.95 LBS
Product Specifications:
Standard: 20″L x 14.5″W x 4.5″H
Density:
Firm
Position:
Side, Back
Features of sleep cloud cervical pillow reviews:
Ribbed, Neck Cut-Out, Layered Design
Material:
Combination
Cover Material:
Cotton
Pillow Type:
Bed
Additional information
| | |
| --- | --- |
| Weight | 3 lbs |
| Dimensions | 20 × 14.5 × 4.5 in |