CONTOUR COOL LEG PILLOW
$29.95
-
Supports & Aligns the Lower Body
Description
CONTOUR COOL LEG PILLOW | Michigan USA
THE CONTOUR COOL LEG PILLOW
Do you wake up stiff, sore, and with lower back pain? A CONTOUR COOL LEG PILLOW helps provide support and comfort for the lower body during the night.
Studies show that using a pillow between the knees when people sleep on their side will help reduce stress on the hips and lower back. Restore natural alignment and reduce pressure on the hips, knees and joints with the CONTOUR COOL LEG PILLOW! This small pillow will make a big difference in how your lower back, hips & knees feel.
Exclusive patented design. Millions sold. Accept no imitation.
Patented shape conforms to the exact shape of the leg for a natural comfortable fit.
The cool gel-infused memory foam provides cooling relief
Restores alignment of back and hips.
Perfect for side sleepers.
Also available in medical grade foam or memory foam. Or upgrade to our new Legacy® Leg Pillow.
FEATURES & BENEFITS
Offers two layers of foam – firm support foam and gel-infused memory foam.
Patented design properly aligns legs, hips, and spine to restore natural alignment for a better night's sleep.
It features a quilted cover to encourage air circulation.
Covers are easy to remove and machine washable.
Also available in medical grade foam or memory foam. Or upgrade to our new Legacy® Leg Pillow.
WHAT'S INCLUDED
1) Cool Leg Pillow (original design)
1) Quilted Cover
The 3rd Generation of CONTOUR COOL LEG PILLOW that keeps you cooler!. This leg pillow features a supportive inner core, similar to that of the Original Contour Leg Pillow, with a gel-infused memory foam outer layer for the ultimate in comfort and support
Keeps spine, hips, legs & knees in alignment
Contoured to fit comfortably no matter your body type
Plush outer cooling gel memory foam layer prevents you from getting hot
Medical grade support foam core maintains alignment as you move at night
Premium quilted zippered cover is removable and washable
Features
New Leg & Knee Pillow features Gel Infused Memory Foam That Keeps You Cooler
The new Cool Leg Pillow is constructed of 2 different layers of foam for better support and comfort.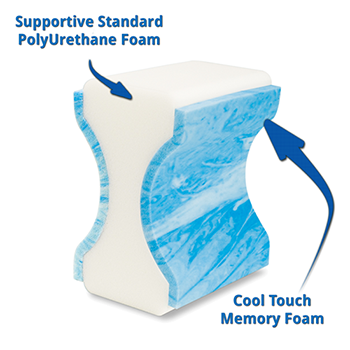 The inner core is support foam to hold its shape to help provide stable support while the outer layer is a gel infused memory foam which stays cooler and won't heat up like traditional memory foam.  Includes a premium zipperred cover.
This pillow provides the support our users need and yet allows you to stay cool through the night. Covering the foam core is a premium With the specially designed outer core, the pillow stays cooler, keeping you comfortable through the night.
With the many benefits of the Cool Leg Pillow
It designed to specifically restore the natural alignment of your body to relax back muscles and sooth hips knees and joints.
Helps prevent back issues
Ideal for side sleepers
Stabilizes pelvis and hips
Restores spine alignment
Cushions your knees
Contour Products is the creator of both the Original Contour Leg Pillow, made with standard support foam and our Contour Memory Foam Pillow, which has a core of 100% memory foam.
Specification
SKU:

27-500R

UPC:

737709003840

Condition:

New

Availability:

in stock

Weight:

0.84 LBS
Product Specifications:
10″L x 8″ W x 6″H
Support:
Medium
Core:
Support foam wrapped by gel-infused memory foam
Cover:
Breathable, quilted cover, Zippered, white
Cover Material:
Cotton
Pillow Type:
Leg & Knee Pillows
Material:
Memory Foam||Support Foam
Sleep Position:
Side
Conditions:
General Comfort||Back Pain||Hip Pain||Knee Pain||Sciatica||
Additional information
| | |
| --- | --- |
| Weight | 3 lbs |
| Dimensions | 14 × 11 × 6 in |