Kabooti® Ice 4 in-1 Seat Cushion
$44.99
-
"Item is currently on backorder it will take an estimated 30 to 90 days to ship."
Available on backorder
Description
Kabooti® Ice 4 in-1 Seat Cushion | Michigan USA
The Kabooti® Ice 4 in-1 Seat Cushion
The Kabooti® Seat Cushion makes other donut pillows obsolete. And the Kabooti Ice takes it to a whole new level with the natural soothing power of ice. It's a 4-in-1 complete comfort seating solution – coccyx cushion, seating wedge, donut ring, with a removable cooling gel insert – all in one. The Kabooti® Ice:
Provides cooling relief for hemorrhoids, perineal wounds, postpartum discomfort, testicular pain, and more
Reduces back pain
Improves posture
All day sitting comfort; perfect for office, home or car
Discreet design – no one knows you're sitting on a donut
Navy Blue Color.
FEATURES & BENEFITS
4 cushions in one: Donut ring | Coccyx Cushion | Seating Wedge | Cooling Gel to provide soothing relief for hemorrhoids, post-surgery recovery and more, help with low back pain, and improve posture.
Removable, reusable icy gel insert provides cooling relief for sensitive areas
Ergonomic wedge design encourages proper posture
Sculpted surface comfortably fits your bottom's shape
Coccyx cutout reduces tailbone pressure
Innovative lobes improves seating balance over regular donut cushion designs
Tapered front edge reduces pressure points underneath thighs and easily accommodates table, desk, and steering wheels
Machine-washable, stretch knit cover with carry handle
Discreet design – no one knows you're sitting on a donut
WHAT'S INCLUDED
1) Kabooti® Ice Seat Cushion w/ blue knit cover
The Kabooti® Ice 4 in-1 Seat Cushion is the first donut seat cushion with a removable ice pack for cooling relief wherever you sit! We know seating discomfort isn't the most talked about topic of discussion or something you even want to ask someone about. The Kabooti Ice donut cushion for hemorrhoids (and other medical conditions such as post-partum pregnancy discomfort, perennial wounds, post-surgical pain) is made to provide you all day relief without anyone ever knowing!
Seating Relief For:
Hemorrhoid or Piles Discomfort
Post-Surgery Recovery
Lower Back Pain
Post-Partum Pregnancy Discomfort
Perineal Wounds
Testicular Pain
Plus Much More!
THE RAPEUTIC DONUT SEAT CUSHION NOW PROVIDES COOLING RELIEF!
The Kabooti® Ice 4 in-1 Seat Cushion has revolutionized medical seating donut cushions for various medical conditions to provide relief while sitting including lower back pain relief, leg pain relief, hemorrhoids or piles, soothe sciatica nerve pain while sitting, tailbone and coccyx pain relief plus much more!
The Kabooti Ice Donut Seat Cushion however, takes your comfort and relief one step further by introducing a reusable, removable gel ice pack that fits in the large center cutout of the donut cushion. The sleek design of the Kabooti Donut Cover keeps your cushion discreet, so no one ever sees you sitting on a donut, or using a gel pack which makes this donut cushion the perfect cushion not only for at home, but in the office or while traveling! So while you get all the benefits of the traditional donut cushion, the Kabooti Ice Donut pillow provides therapeutic comfort and relief by the natural soothing power of ice to help relieve pain and swelling that is cause by various conditions such as:

Hemorrhoids
Post-Surgery Recovery
Post-Partum Pregnancy Discomfort
Perineal Wounds
Testicular Pain
Low Back Pain
Plus Much More!
WHY THE KABOOTI IS THE BEST SEAT IN THE HOUSE
The Kabooti is an ergonomic foam ring donut cushion that features an exclusive orthopedic design to help improve your posture while you sit, spinal alignment and help provide relief for many seating discomforts. The 3 in 1 design makes the Kabooti the only seat cushion you will ever need as it combines the best features of a ring shaped donut cushion, coccyx seat cushion and traditional seating wedge all in one! Our donut seat has completely re-invented ergonomic design you won't find anywhere else. So if you are looking for a donut cushion for hemorrhoid relief, a coccyx cushion for tailbone relief, or a superior seating cushion that provides improved support and comfort all day long, the Kabooti is the perfect choice!
ADVANTAGES OF THE KABOOTI DONUT RING CUSHION
3-in-1 Cushion – Combines the benefits of a donut cushion, coccyx cutout and ergonomic wedge design to provide all day comfort and support with one cushion.
Discreet Cover – The cover is a breathable double mesh knit fabric which is machine washable, which makes your donut discreet. No one has to know what you are sitting on which makes this the perfect foam donut cushion!
Reusable Ice Pack – Removable ice pack allows provides soothing comfort to ice away discomfort wherever you sit.
Reduces Tailbone Pressure – Extended Coccyx Cutout reduces tailbone pressure while sitting to provide comfort and relief for your coccyx region. Provides complete comfort for sore areas and promotes air flow so the users is cool and comfortable.
Tapered Wedge Cushion Design – Reduces pressure points underneath the thighs improving circulation & distributes your weight evenly. Easily accommodating to use with tables or desks and driving.
Ergonomic Sculpted Surface – Promotes proper seating posture by slightly tilting the pelvis forward in order to maintain the spine's natural lumbar curve. Perfect for those who are looking to reduce lower back pain and increase pelvic support while sitting!
Improved Seating Stability – Not typically featured in a standard foam ring cushion, the innovative stability lobes improve balance and helps to evenly distribute your weight proving less pressure on your bottom.
KABOOTI DONUT SEAT CUSHION OVERVIEW
It's a fact that 3 out of every 4 people will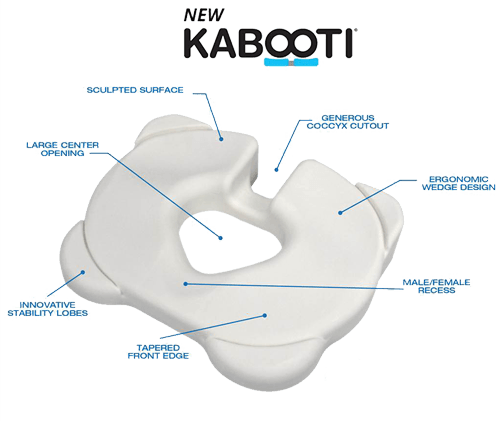 experience hemorrhoids in their life or some other type of seating discomfort. Foam Ring cushions has been the go to answer for seating relief as recommended by doctors. However, with traditional foam ring cushions, sitting has been a persistent problem as the tailbone still would face pressure from the foam ring, instability, embarrassment from the donut design and discomfort for males because of the traditional design. However, the Kabooti Donut Seat takes great pride in addressing all those seating pains in order to give you a more comfortable seat cushion on the market today!
Recommended for its back pain improvements, for women who are post-partum, those suffering hemorrhoids and other bottom pain issues, the Kabooti is the leader in ergonomic donut seat design.
Don't believe us? Try it out, don't like it? Send it back no questions asked!
Specification

SKU:

30-761RBI

UPC:

737709004816

Availability:

In Stock

Weight:

4.00 LBS

Shipping:

Calculated at Checkout
Product Dimensions:
17.5″ wide x 13.5″ deep; 3.25″ high tapering to 1.5″; Coccyx Cutout: 3″ wide; Donut Ring Cutout: 7.5″ wide x 3″ deep
Material:
Support Foam
Cover Material:
Cotton/Poly Blend
Conditions:
Tailbone Pain||Coccyx Pain||Hemorrhoids||Back Pain||Sciatica||Post-Partum Discomfort||Perineal Wounds||Testicular Pain
Additional information
| | |
| --- | --- |
| Weight | 3 lbs |
| Dimensions | 16 × 17 × 3 in |