Standard Semi-Electric Bed
$845.00
-
Competitor II Standard Semi-Electric Bed Height Adjustable with Fiber Core Mattress
Include:
(1) Standard Semi-Electric Bed

(1) Fiber Core Mattress
Additional Accessories...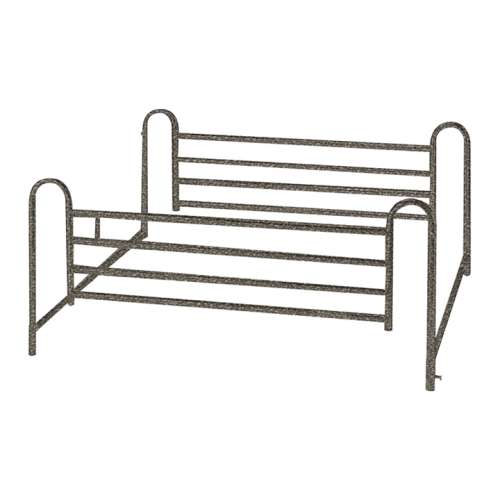 Description
Drive Medical Standard Semi-Electric Bed
The Drive Medical Competitor II Standard Semi-Electric Bed Height Adjustable with Fiber Core Mattress.
Drive Medical Standard Semi-Electric Bed With Mattress
FEATURES/BENEFITS
#15571 Hand Crank adjustable bed height features a NEW positive fit hexagonal crank connection making it easy to raise and lower bed height for patient comfort, ease of entry/egress, and patient care accessibility.
The Large glow in the dark hand pendant has easy-to-use controls for adjusting head and foot deck sections to comfortable positions built-in battery backup and power indicator light. NEW Lock out feature can be used to prevent accidental actuation of head or foot adjustment.

In the event of a power failure, a 9-volt battery (not included) located in the hand pendant can lower the head and foot sections to a horizontal position. Two additional Batteries can be installed into the motor housing to increase adjustment speed and extend battery life. No crank needed.

Slat Deck provides strength, no-sag mattress support, no links to connect, easy to clean.
The patient's weight capacity is 350 lbs. Total weight capacity 450 lbs. evenly distributed. Includes occupant, mattress, side rails, trapeze, accessories, personal effects, etc.

Ultra-light head and foot frame weigh only 41 lbs. each making one-person transport and assembly easy.

#15571 Competitor II Crank Hi/Lo Hgt Adj. Bed frame only with casters.

Full and Half Rails meet IEC Entrapment guidelines when used on the #15561/15571 beds and are backward compatible for use with the #15560 & 15570 Competitor beds.

Product Safety Standards: Meets IEC 60601-2-52 60601-1 60601-1-2 60601-1-11.
Fiber Core Mattress
The Fiber Core Mattress with Polypropylene Cover provides patients with the comfort and support they need. It is more economical than foam and lighter than innerspring mattresses while remaining high-quality and functional.
100% virgin densified polyester fiber is more economical than foam.

Lighter weight than innerspring mattress reduces shipping costs.

A breathable polypropylene cover keeps the patient cool and comfortable.
The mattress and vinyl cover are odor-free and non-toxic.
The cover is waterproof; 100% recyclable; odor, stain, and mold resistant.

Meets Federal Fire Code 16 CFR 1633.

Dimensions: 80″ x 35″ x 6″

Weight capacity: 300 lbs.

One-year warranty on fiber core and cover.
For a lighter, more economical mattress option, purchase your Fiber Core Mattress with Polypropylene Cover.
Item # 15571FR-PKG
Drive Medical Semi Electric Ultra Light Plus Hospital Bed 36″ Available with Free Shipping in the USA.
ProBasics Full Electric Bariatric Bed Also Available Please Click Here >> For More Details.
SPECIFICATION
| | |
| --- | --- |
| Bed Height | Low Hgt 15 " / Hi Hgt 22.5 " |
| Carton Shipping Weight | 163 lbs. (74 kg) |
| Unit Dimensions | 35.6 " W x 87.2 " L | 37 " W x 87.2 " L. Overall Sleep Surface 36″ W x 80″ L |
| Warranty | (Original Purchaser) 5 Years on Motor and Hand Control, Limited Lifetime on Welds and Frame, 1 Year on All Other Parts and Components |
| Weight | 146 lbs. (66.2 kg) |
| Weight Capacity | 350 lbs. (158.8 kg) Patient Wgt 450 lbs. (204 kg) Total Wgt Includes occupant, mattress, side rails, trapeze, accessories, personal effects, etc.) |
| Bed Height Min w casters | 15″ |
| Bed Height Max w casters | 22.5″ |
Additional information
| | |
| --- | --- |
| Weight | 151 lbs |
| Dimensions | 65 × 5 × 5 in |
| Bed 1 | Bed 1 |
| Bed 2 | Bed 2 |
| Bed 3 | Bed 3 |